Silently and seamlessly, you may not be able to see it. But rest assured there is a lot happening when you apply our stickers to your devices.
When you attach one of our WaveBlock stickers to your cellphone, for example, the sticker forces the EMF Radiation that is coming out of your phone to disperse into hundreds of fragments. You can't see it, but this separation of the EMF significantly reduces the exposure from the back and front of your phone.
How? Think of it this way. The radiation coming out of your phone without WaveBlock is a strong clumped force — like what comes out of your garden hose when it's on full blast. The full stream is going directly into your ears, cheeks, and head, which may be harmful over time to your body.
By attaching the WaveBlock sticker, you are essentially putting the hose on mist or a gentle spray. There is still water coming out, but not only is it less strong, but it's also going in more directions to lessen the blow.
It's that simple. One sticker, lessened amount and less intensity of radiation exposure from your cell phone.
Stickers compatible with PowerBeats Pro, AirPods Classics & Pro, iPhones, SkullCandy Indy, iPads + more makes and models coming soon.
Will WaveBlock™ affect the quality, sound, or Bluetooth range of my earbuds?
Our engineers have worked tirelessly to ensure there is ZERO interference with the electronic operation of your earbuds.
How do I install WaveBlock™?
Application of WaveBlock™ wraps is simple and easy to do, however to ensure installed properly, please follow the instruction guide included in your WaveBlock™ packaging. For easy reference, we have also posted step-by-step installation instructions on our website. WaveBlock™ stickers are designed only for the specific products and not any other models.
Will using WaveBlock products affect the battery life or wifi signal of my electronic device?
Your battery will NOT be affected by the stickers nor will your signal. All WaveBlock stickers are engineered and tested for each specific product and that's why we don't have a "one sticker fits all" mentality. Use the stickers with confidence!
Why should I be concerned about exposure to EMF radiation?
Members of the Scientific Community have identified sufficient data that links exposure to EMF radiation directly to various health problems. In 2019, more than 250 scientists signed a petition calling for the International Public Health Organization to create stronger guidelines on use of wireless devices.
Does Bluetooth® technology have health risks?
There is mounting and alarming evidence that the use of Bluetooth headphones may, over time, be damaging to our health.
Below are several reasons why we might be concerned about over-exposure to Bluetooth technology:
1. Our Skin Acts Like a Sponge
Without a chord, in order for the two ear buds to "connect" they must pass signals directly through your head. Here's the alarming part: Because our skin is like a sponge, it is absorbing electromagnetic radiation or EMF each time these signals are passed from side to side. The placement of wireless headphones and the length of time they are worn (sometimes for hours at a time), increases the levels of exposure to EMF radiation in your head.
2. What Do Studies Reveal?
Studies are being conducted on how human skin acts as a sub-THz receiver and the health risks of absorbing EMF over time. Some government agencies have down-played these risks, but growing numbers of members of the global scientific community have called on the International Public Health Organization to establish more stringent guidelines on the use of wireless devices, including headphones.
3. What Does the Medical Research Say about EMF?
The American Academy of Environmental Medicine, for one, has long-been studying the adverse biological health effects of EMF radiation on the body. Their research has documented cases of genetic damage, reproductive defects, neurological degeneration and nervous system dysfunction, immune system dysfunction, cancer and other serious health concerns. Other studies have made a connection between EMF radiation and cellular breakdown and interference in cellular communication.
4. What About the Impact on Children?
Research on the impact of EMF radiation on children suggests that because children's brains are smaller and thinner than adult brains, they are believed to be much more absorbent—in fact, as much as three times more absorbent. This means, for children, EMF exposure and risks are even higher.
5. EMF Radiation: Should You Be Concerned?
Members of the Scientific Community think so. In 2019, more than 250 scientists signed a petition calling for the International Public Health Organization to create stronger guidelines on use of wireless devices. They believe they have sufficient data to link exposure to EMF to various health problems.
Does radiation exposure pose a greater threat to children than adults?
Research on the impact of EMF radiation on children suggests that because children's brains are smaller and thinner than adult brains, they are believed to be much more absorbent - in fact, as much as three times more absorbent. This means that for children, EMF exposure and risks are even higher than adults.
The image below show how the physiologies of different age groups affect the the specific absorption rate (SAR) of rdation from miobil phone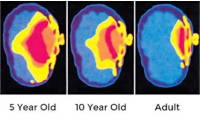 Are there any special steps I need to know about before or after installing WaveBlock™?
Before installing, wipe down your earbuds with the provided alcohol pads. Once earbuds are clean, be sure to dry them thoroughly with the provided soft clean cloth.
After removing WaveBlock™, be sure to remove any residual adhesive. Adhesive can be removed with a clean cloth.
I have an EMF tester at home and didn't get the same reading as you mentioned.
Home testing is much different than lab testing. WaveBlock tests all our products in controlled environments, with faraday cages, which are free of other devices. Your home readings can be affected with interference from wifi routers, cell phones, lap tops and modems. Any of these could affect the reading. Our labs are certified and free of outside interference.
What benefits have WaveBlock users reported?
Reduced headaches, reduced ringing in the ears and less brain fog have been common responses we've heard from happy customers.
Will WaveBlock interfere with my wireless charger or magnets?
Is WaveBlock™ technology validated by a reputable 3rd Party?
Yes. WaveBlock™ technology and performance are verified in independent, FCC-certified third party labs. The labs we work with are the same labs that test mobile devices, Bluetooth, and Wi-Fi for FCC regulatory compliance and we have complete transparency, sharing the results of lab testing on our website.
Will my earbuds still fit in the charging case with WaveBlock™?
They are engineered to fit perfectly in any charging case.
Will I feel the WaveBlock™ wrap in my ear?
We designed these with premium materials to deliver maximum durability and versatility. There are absolutely no ear sensitivities. You will not even know they are on.
WaveBlock™ iProtect stickers are reusable, and can be reapplied to your cell phone if a protective case is used. WaveBlock™ EarProtect and iBlock stickers cannot be reused due to the nature of the material of the device.
Is WaveBlock™ difficult to remove?
WaveBlock™ wraps are very easy to remove. You can peel them off of your earbuds at any time, however if you attempt to re-apply, they may not adhere as securely a second time. When replacing a sticker with a new one, make sure to remove old glue residue before reapplying with the alcohol wipe provided ONLY. Any other solutions or materials used on the surface, may result in the stickers to not stick. Please click here to view our application instructions videos.
Why doesn't WaveBlock make one UNIVERSAL sticker to put on devices? Why all the different models?  
Glad you asked! WaveBlock takes EVERY DEVICE and studies how many antennas are present and the location of the antennas. Once we have that information, we engineered it per that design. To be effective, they must be designed to each specific device. 
How long do WaveBlock last?
WaveBlock stickers have no expire date on their effectiveness. The greatest impact on their duration is how customers treat their earbuds. For instance, sticking the earbuds in your pockets will accumulate lint, and lessen their effectiveness. The average duration of WaveBlock earProtect EMF protection stickers is 3 months. The product will still be effective in EMF protection after that time, but peeling can occur because of the proximity to the ear and sweat, personal habits and environmental elements.  To get the greatest wear, we suggest using alcohol cleaning wipes on the earbuds PRIOR to applying the stickers. Also, storing your earbuds in their case will help to minimize the stickers lifting or peeling.  Lifting of the WaveBlock stickers may occur, due to the frequency of common usage. We offer a 3 or 6 month discounted replacement subscription service for heavy users.
What is the difference between Classic and Pro stickers?
Classic is designed for Generation 1 & 2 wireless ear buds-- the longer stem earbuds, like the original AirPods.
Pro is designed for the Generation 3 wireless ear buds-- smaller stem earbuds, which is the newest model of Airpods.
Why might my stickers be peeling?
It could be affected by oily hands during the original install, stuffing the earbuds in the pocket (absorbing lint) instead of storing them in their case or pulling the sticker off and repositioning it (stickers should only be applied once). Any of these three factors could cause the sticker to peel. WaveBlock recommends replacing your earbud stickers every 6 months for optimal appearance. Lifted stickers do not affect the functionality however; heavy users may want to order replacements for aesthetic reasons.
I am wanting to order WaveBlock as a gift but don't know the type of earbud the recipient uses. Which should I order?
Following the application of the sticker, I am having connectivity issues.
99% of the time this is due to incorrect installation of the stickers. Please revisit our application page and review the instruction video and determine if the sticker was applied correctly. If the problem persists, please contact WaveBlock.
I've received communication that my product was delivered but I haven't yet received it. What's going on?
There is often a 1 day lag time between delivery communication and actual delivery. Packages sometimes can also get misplaced or delivered to a neighbor due to the small and thin nature of the packaging. Please contact customer service at info@waveblock.com if your package does not show up within 7 days.
I ordered the wrong size for my phone - what do I do?
If you ordered the wrong size, please let us know and we will be happy to help make it right. We must process a return for an exchange and a 30% restocking fee will apply. We encourage you to double check the size and model of your devices.
Can I edit my shipping info after I've placed my order?
Sure! If it's within 24 hours and the package hasn't shipped yet, you may do so by emailing us with your order number and new address to info@waveblock.com. We will do our best to get your shipping information updated before your order leaves our warehouse.
Does WaveBlock ship to US military bases?
Yes, we do. Your order may take longer than expected for the Post Office to get your package to you, depending on where you are stationed.
Does WaveBlock ship outside the U.S.?
We currently only ship to Canada for International shipping. More countries outside the United States will be added in the future as we expand our reach and attempt to reduce shipping costs.